"There's an app for everything – if not, we will make it…"
Weitere Infos
Mobile solutions on a business mission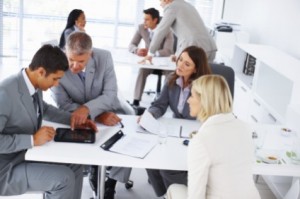 Since the very beginning of personal computing there has been a strong desire for mobile computing. First laptops and predecessors to modern tablets evolved but where rather heavy and unhandy. With developing the iPhone & iPad Apple showed a different approach. Simple, intelligent devices with a special operating system have brought mobile living and mobile working to a new level.
Next generation devices are lightweight, easy to handle and most notably: always on.
Besides development of specific hardware and associated system-side support other developments also set the trend for mobile solutions.
Especially proceedings on the internet are massively promoting this progress. Cloud solutions, social media, faster connections and decreasing cost for mobile data are making users go mobile.
Smart webapplications react intelligent to particular situations providing users with beneficial information to satisfy their needs.
The "internet" is omnipresent and always available providing an integrated and interconnected point of view.
Cloud services offer persistent access to data, synchronizing intelligently on all devices (for example tools like Evernote or Springpad). The "internet" is not solely operated from computers and browsers, it is integrated into everyday life. Cars, TVs, Refrigerators and other devices from the daily life use the internet for communication while offering new possibilities to users.
Also emerging new generations are massively spreading mobile solutions. So called "digital natives" – young people, 25 years and younger – are living the internet. For them it is just another form of communication – social structures change and virtual friends become just as important as real friends, boundaries become blurred. More than 86% of digital natives use the internet daily – most of them mobile.
Meanwhile personal computers and laptops are losing market shares. Recent studies say PCs are losing 35% and laptops are losing 39% of shares to tablets like the iPad.
Again the United States are setting the trend. According to a Good Technology's study already 28% of newly activated devices in American enterprises are iPads. Already 50% of Top 100 enterprises are using iPads for business related tasks, 80% of Top 500 enterprises are already developing mobile solutions.
Alphasystems is strong in utilizing its expertise and experience to provide our customers with innovative solutions that are fine-tuned to your needs.
App development for all important mobile platforms (iOS, Android, Symbian, Windows Phone)
State of the art GUI design
User-friendly, self-explaining user guidance
Optimally adapted for touch devices
Intelligent mobile business solutions with connectivity to internal applications
Process and resource optimization through mobility and good usability
Solutions centering work around the individual to raise motivation
Intelligent usage of existing structures and systems.
Mobility for your business…